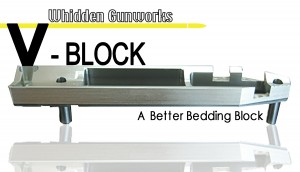 The V-Block is an ingenious mounting system that allows custom bedding to coexist with interchangeable actions in one custom rifle stock. The Whidden V-Block – developed by the 2007, 2008 and 2010 National Long Range High Power Rifle Champion John Whidden- is bedded into your stock and allows you to mount your Remington 700, Model 7 or XP100/ XR100 action. It further allows you to remove that action easily to mount any other action with the same mounting post configuration. The installation is much simpler than conventional bedding methods as well. Stock inletting is greatly simplified due to the square base requiring no difficult radius matching, and the danger of excess epoxy under the barrel or in the action is virtually eliminated.
The V design allows the action to rest firmly in the block along series of small raised ridges that keep the action snugly aligned in the same spot every time it's mounted. With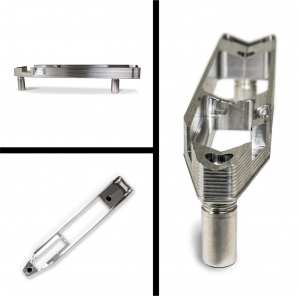 some other similar systems there is a skim-coat layer of bedding required. Not so with the V-Block; hence the interchangeability, solidity, simplicity, and accuracy.
The shooters we know who have $500 to $1000 or more invested in a custom stock would like to be able to use that stock for more than one caliber. With a V-Block mounted, anyone who wants to shoot a .243 now and a .308 from the same stock in 5 minutes can make that change by easily swapping barreled actions.
Another added feature of being able to depend on a re-mountable and immediately zeroed rifle is that any rifle can have takedown capability. The V-Block will accommodate both long and short actions as well as either the single shot or repeater style ammunition feed. It is made of 6061-T6 aluminum exactingly machined, surface milled for epoxy adhesion, and individually inspected. The V-Block is easier to install, simpler to inlet, more accurate, and more versatile than any action mounting system available.
Savage Models Now Available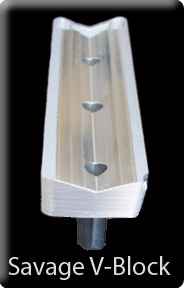 The new Whidden Gunworks V-Block system for Savage rifles has arrived!  Models are available for the Savage Target, Palma, and Savage Short and Long Action. The same competition proven design, and the same unmatched flexibility now for your Savage rifle.
It's elegant simplicity for complex equipment. It's the V-Block!!
Click here for V-Block Instructions