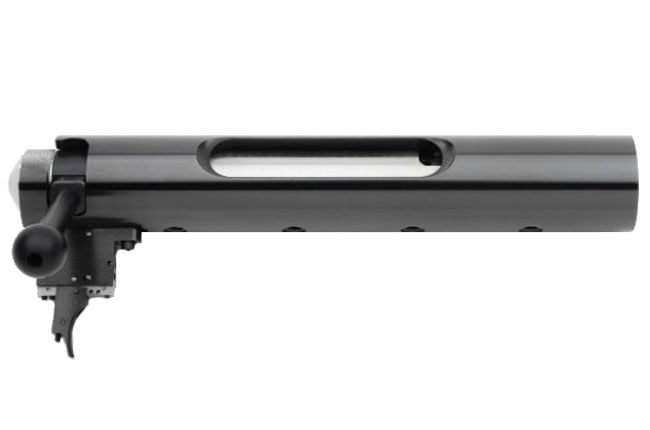 Barnard Model GP Action
$2,850
* The Barnard GP is a special order action. Please contact us to place your order. (229) 686-1911
This, the largest member of the Barnard family of actions, is designed for the biggest cartridges that are generally found in use in target rifles.The Model GP is of conventional, cylindrical  forward-locking turn bolt design, is available in either left or right handed configuration and at present time is only single shot format.
The bolt carries three forward locking lugs, is equipped with a Sako style extractor and bolt face which can accept any case rim up to 0.804".  It undergoes finish machining after hardening, and is hand lapped to suit its mating receiver.
The receiver is a massive 4340 chrome/moly/nickel steel solid bottom cylinder, with relatively narrow load/unload port which is through hardened to 38Rc and finish machined after surface hardening to ensure concentricity. 
Supplied with the action is a 6061 aluminium bedding block, an anodised 6061 aluminium piccatinny style scope rail (30 minutes of angle), and Modified 2 stage Barnard trigger. The bedding block can be used with (and highly recommended), or without a 12mm recoil stud which is also included. This bedding block is machined to give 2 parallel points of contact on the receiver which will ensure excellent alignment and rigidity when well mounted in your stock. This action will accept cartridges up to an overall length of 5.50" - thus will handle any of today's popular large bore cartridges. 
Model GP Details

 Receiver Length
308mm (12.126")
 Receiver Diameter
50mm (1.968")
 Bolt Length
270mm (10.630'')
 Bolt Diameter
34mm (1.338'')
 Striker Tip Diameter
2mm (.078'')
 Loading Port Length
117mm (4.606'')
 Barrel Thread
1 1/2" UNF X 12 TPI
 Barrel Shank Length
41mm (1.614'')
 Action Mounting
Drilled & tapped (M8) for action
 Rail mounting
Drilled & tapped (M5) for our full length scope rails
 GP Action Weight
3.555kg / 125.40oz         (with trigger 3.661kg / 129.14oz)
  Finish
Blue/Black standard