Sizer Die
Our hand-polished sizer die has a shorter OAL for better shoulder bump-back, a smaller base, and tighter internal tolerances. All of our standard sizer dies include a shoulder datum collar to measure shoulder bump and headspace. They also include a pin retainer should you chose to use your sizer without the expander. The wide knurling on the die and lock ring make small hand adjustments simple.Click the image below for sizer die instructions.

NOTICE: When ordering the Whidden Gunworks Full Length Bushing Sizer Die or Die Set, no bushing is included. Please specify the desired size of the bushing(s) needed and the bushing(s) will be added at a cost of $15.00 each. Be sure to call us to order your bushings! In deciding bushing measurements Whidden Gunworks uses the Redding/Wilson standard.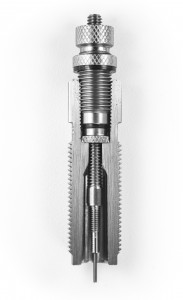 Seater Die
For precise, consistent OAL handloads, the internals are designed to keep your rounds …. Round. Inside the die a floating sleeve system helps to improve concentricity – a must for repeatable precision. The micrometer adjustable seating die has flutes for precise hand adjustment at the loading bench. The depth increments are easily read and will stay that way for years of use. Click the image below for seater die instructions.